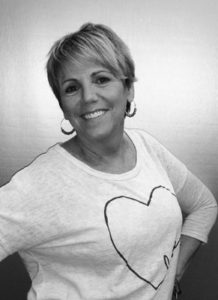 From Classic to Contemporary.
Hi I'm Sue, I'm a hair designer and the owner of Blades since 1995. I'm born and raised in Indianapolis and have worked around the north side of Indy for over 30 years. I absolutely love my job, and feel very blessed to have my clients that have been so loyal, and I have grown so close with (they're like my family now) , and I also treasure the talented team members that have been associated with Blades through the years.
I have a strong foundation of cutting skills and the results are a visually and technically precise haircut. My personal style allows me to create designs from classic to contemporary. I'm trained in Redken hair color and I love doing dimension natural looking haircolor. A few of my favorite things right now are Redken Guts – for root volumizing, Redken Color Gels – for my coloring, and Redken Framework hairspray – for good hold.
In my free time I try to work out, I enjoy live music, socializing with friends and visiting my adult children that live across the U.S.