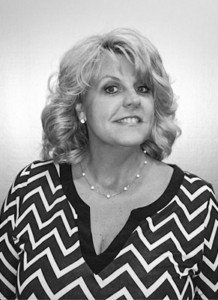 I absolutely delight in designing a hair-shape that best suits my client's features.
I have years of training and certifications in hair coloring. I was a national educator for Framesi, Colorly and Bracato Hair Color. In addition, I was a member of the Hair Fashion Committee for the State of Indiana and was an invitee to the World Hair Color Congress. I'm a graduate of Purdue Continuing Education for Cosmetology, and still enjoy continuing education. I was voted 'Top Hair Colorist of the Year', by Indianapolis Monthly Magazine. I'm currently not dedicated to any one particular product line because I like bits and pieces from several lines, but here are a few of my current favorites:
*Brazilian Blow-Outs – I'm loving what it's doing for controlling the hair.
*Bracato – Hold ON and Saturation – I customize the formula of these two products to achieve the desired results
*Woody's Clay – I'm using a lot of this product to mold and sculpt the hair without greasiness and stiffness
*Bassu Oil – It's a topical product the I use before drying to heal the hair
*Purology products – There's no water in their products, so it's pure product that you emulsify with water, and it has great 'anti-fade' for my all my hair-colors.     
I live in Fishers, and I'd say I'm a 'hockey' Mom. I have three boys that have played, and I traveled the US to watch them. I enjoy socializing with friends, seeing live music.  My days working here at Blades begin very early at 5:00am, so if you're an early riser and like an early morning appointment, I'm your gal, and I also work a few evenings. I'm currently accepting new clients, so please phone me to schedule an appointment, and let me create your perfect hair-shape.